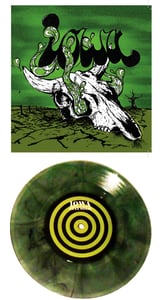 $

10.00 - On Sale
Each Vinyl comes with a CD version with a bonus track!
Individually numbered and limited to 150!!!
The band's initial studio sessions have already borne plenty of fruit with the impending release of a double A side 7" on their own label Desert Mouth Records. These recordings have been made with rising super producer Jack Farley, a man who's had his hands all over just about every great record that's emerged from Melbourne's underground scene in the last couple of years, including releases by Beaches Love of Diagrams, St Helens and Spider Vomit. Farley plugged straight into the band's aesthetic, capturing the sound of the trio in their natural environment playing live and loud with every song recorded start to finish in a few short hours.